ESCAPE FITNESS: TRAINING THAT WORKS FOR YOU
---
WORK OUT WITH A COACH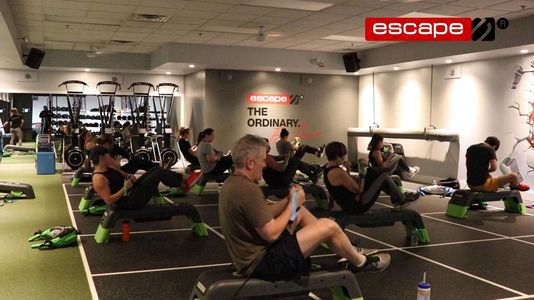 Group Training:  Structured group classes provide the support to follow the sessions that our coaches lead where everyone can work out at their own level. 
Small-Group Training:  2-4 people with similar schedules can share a session of training and get more dedicated attention from their coach. 
Personal Training: Coaches design and continuously modify a program customized specifically for you and be there every step of the way to help you reach your goals.
APP-GUIDED INDIVIDUAL WORKOUTS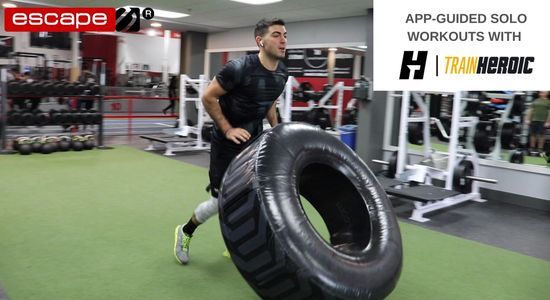 If you prefer to workout without a coach or a friend, all good!  Use our new and innovative gym space for a full workout of your own choice. But if you feel it's hard to stay motivated and push as hard as you possibly can,  don't worry. we got you! When you become a member, you will have  FREE ACCESS to our APP-GUIDED WORK OUT PLANS created by our coaches that you can follow on your phone and work toward your fitness goals. Read more.
---
CLASSES
Boot Camp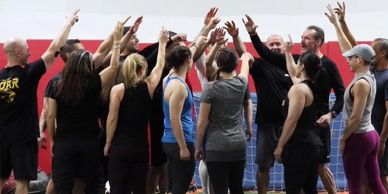 WHAT: These classes feature a unique combination of warm-ups, speed training, strength training, endurance training and flexibility work. The most important component of the system is its community/tribe approach. 
Each session is 60 minutes long.
CLASSES:                                                      
Sprint & Upper Body Lift
Lower Body Lift
Metabolic Circuit
Total Body
Power Lift
Active Stretching
HOW: You can expect to push sleds,  slam medicine balls, run sprints, hammer tires, do pull-ups, row, ski and more. Countless exercises to keep each session fun and challenging at your own level and pace.
WHERE: These classes generally demand more space and take place on our massive turf and track.
Group X
WHAT: A balanced and functional group workout in 45 minutes, using innovative Escape Fitness equipment, moving from one station to another under the guidance of an experienced coach. 
 CLASSES:                                                         
HIIT the Deck Upper Body
HIIT the Deck Lower Body
HIIT the Deck Total Body
MOVE IT
HOW: During HIIT the Deck classes,  you will have great cardio, strength and plyometric (jumps!) workouts focused around the Escape Deck 2.0 (pictured above). And MOVE IT classes will have you move through a series of workout zones, with equipment and exercises carefully chosen to develop total body strength, functional strength, and endurance.
WHERE: These classes take place in the Group X room on our second floor. 
Yoga
WHAT: A  lot is said and written about yoga. We love to define it as a journey to self-contemplation. General classes last for 60 minutes, and extended classes are 75 minutes. 
Our yoga packages are offered separately, outside of general membership levels and can be utilized by all Escape members and non-members alike.
HOW: During our yoga sessions, you can expect to breathe, focus, stretch and relax, as well as learn to make a mind/body connection.